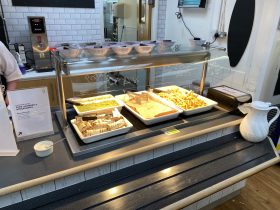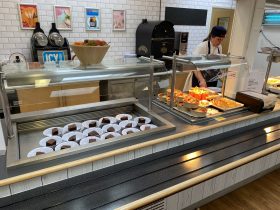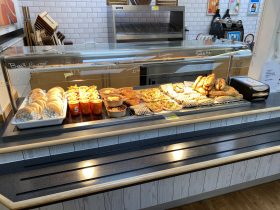 Bushey Meads School aims to offer a choice of nutritious meals to students at lunchtime and a range of healthy snacks during breaks.
Our Academy school restaurant is managed by Innovate, a part of the Impact Food Group (https://impactfood.co.uk/).
Innovate by name and nature. Food choice, flexibility, quality and speed are at the heart of what we do. Inspired by the best and most fashionable high street concepts, we pride ourselves on fusing fantastic, quality food with quick service. Everything has to start with fantastic quality and reasonable food. Across our wide, diverse and ever-changing menus, we ensure that everything is safe, sustainable and tastes great. We only source from farmers, wholesalers and catering butchers that are audited to UKAS accredited standards and meet the highest possible assurance levels.
We have a huge variety of really exciting dishes to try! We're talking about global street food, our famous curry Thursdays, modern vegetarian and vegan, and traditional fish and chips. There is something for everyone to enjoy at all times of the day.
In addition to great food, in great environments, we are committed to becoming an 'Impact Organisation' and doing whatever we can to create a better world. We operate a sustainable and responsible business model, minimising packaging (especially plastics), food waste and energy consumption, whilst maximising recycling and composting.
As an Impact Food Group caterer, our vision and values are entirely aligned to working with our schools to create a positive food culture and helping more students eat better food.
The school Restaurant is open at the following times:
Breakfast                           7:30am – 8.30am
Break-time                        11:00am -11.20am
Lunch                                 13:20pm-2:05pm
Cashless Catering System
The school operates a 'cashless' catering system that uses biometric (finger scan) technology (once parental permission is received) The best and most convenient way to credit the account is to register with SCOPAY and pay online using a debit or credit card.  This allows parents/carers to view daily purchases made on the account, pay for trips, books and other events.  Students can also check their SCOPAY account via two balance display machines located in F & G Block.
Parents can request a daily spending limit for their child by emailing a request to [email protected].  For example, you can credit £10 to your child's lunch account and set a daily limit of £3.  Any unused money is automatically carried forward to the next day.
Free School Meals
The quickest and most effective way to apply for Free School Meals is via the Hertfordshire County Council website. Or by phoning 0300 123 4048.
(If you child is transferring from primary to secondary school, please can you ensure that their entitlement is transferred to their secondary school)
Students entitled to free school meals will have their catering account credited with £2.35 to be used at break/lunchtime on a daily basis.  Any unused allowance will be lost at the end of the day.
School Breakfast
The school offers a breakfast service from 7:30am – 8.30am. We offer all students a complimentary bowl of porridge, plus the option to purchase additional breakfast items and hot drinks using their catering accounts.
Refunds
Refunds are only given on a balance over £5 when a student leaves the school and must be requested in writing from the schools Finance Team, [email protected]