At Bushey Meads we are proud to support our Sixth Form students with their 'Next Step'. We know that there are a multitude of options for the students when they leave Post 16 study and often deciding on pathway can be difficult. We aim to provide students with a well-rounded view on potential options for them and support each and every student with their chosen 'Next Step'.
Please take some time to view the presentations below and we hope many of your questions will be answered. If you have any questions regarding students next steps please do get in contact.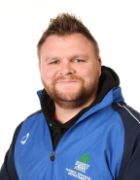 Mr M O'Kelly
Head of Sixth Form
A presentation on the support processes at Bushey Meads Sixth Form and a student's next step to University.